Nottingham Trent University becomes the latest Employer Champion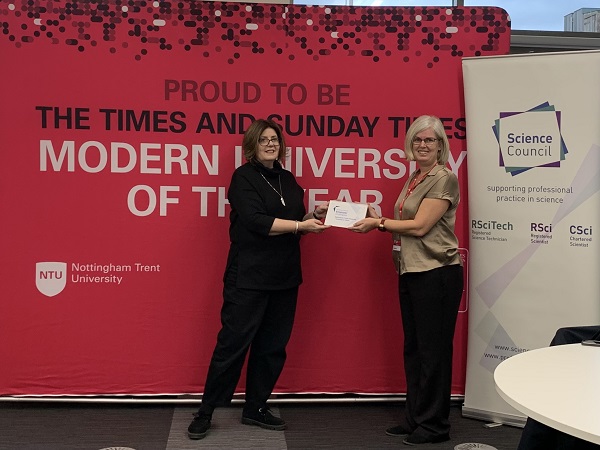 The Science Council awarded Nottingham Trent University (NTU) Employer Champion status at their Technician Conference on Monday 19th December 2022.
The Employer Champion programme supports organisations which demonstrate professional development opportunities for staff, through professional registration of their scientists and science technicians. Moreover, these employers are also demonstrating their commitment to provide CPD opportunities for their staff and promote professional body membership.
The Technician Conference was opened by Professor Mary O'Neill, Executive Dean of the School of Science & Technology at NTU.
"We are delighted to achieve this status as our laboratory technical team is fundamental to the practical teaching sessions and research practices within the university. Achieving this award provides a support system for the professional development of our technicians, which we believe is crucial. It will also see the implementation of a mentoring system and continued improvements for technicians working across all disciplines within the university."

Professor Mary O'Neill, Executive Dean of Nottingham Trent University's School of Science and Technology.
The Employer Champion award ceremony followed the opening remarks by Professor O'Neill. Science Council Chief Executive, Helen Gordon congratulated all the staff that had achieved professional registration and the university for supporting them in the process.
"Registration shows your peers and employer that you have demonstrated a commitment to professional standards, and to developing and enhancing your skills."

Helen Gordon, Science Council Chief Executive
The award was presented by Jane Banks, Science Council External Relationships Manager, to Sheri Scott CSci, who is Senior Biomedical Science Lecturer at NTU.
Several of the technicians who gained professional registration were in attendance at the conference so were presented with their certificates.
NTU became a Technician Commitment Signatory in 2017 and have been actively working towards their Employer Champion status since 2020. The first cohort of six staff that have been supported through the registration process by the university were:
Charlotte Barker RSci – Technician in Chemistry
Clare Coveney CSci – Research Associate at the JvG Cancer Research Centre
Becky Coxhill RSci – Acting Senior Technician in Biosciences
Jessica Fountain RSciTech – Acting Senior Technician in Biosciences
Helen Wallis RSciTech – Technician in Biosciences
Aaron Wood RSci – Technical Specialist in Forensics
Congratulations from the Science Council to these individuals and to all at NTU who supported them through the process and helped to achieve Employer Champion status.