NAW21: Apprenticeships in science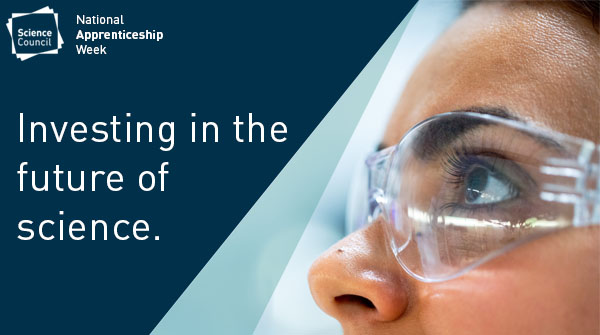 Tom Cheek, Apprenticeship Lead
Science is a sector rich in variation and opportunity. When matched with apprenticeships, it offers exciting entry and progression careers across the science disciplines.
For individuals, the attraction of an apprenticeship includes securing a job that provides a learning experience, combining the development of knowledge through enriching and engaging off-the-job learning. When this is united with significant professional experience that develops skills and behaviours, the apprenticeship delivers full occupational competence.
Apprenticeships allow employers to meet their skill gaps by bringing in new members to their team or upskilling existing staff. In sectors of science that find it hard to meet skill needs, apprenticeships can act as a vehicle to create skill solutions, training up individuals to meet the business needs for today and tomorrow. This is ever more the case, where with apprenticeship standards (in England), there is a focus on the occupation over specifically a qualification(s). Employers can work with the Institute for Apprenticeships and Technical Education (IfATE) to create new standards where there is an identified skills gap that can be filled by a recognised occupation.
In Scotland, Wales and Northern Ireland the devolved governments manage the apprenticeships, ranging from foundation and modern apprenticeships up to graduate apprenticeships, with a significant emphasis on qualifications as a primary basis of the delivery of the apprenticeship. The range of levels encompass a broad range of industry skill needs making apprenticeships an attractive offer for both employers and individuals.
With apprenticeships there is increasing opportunities across the full range of entry and progression levels including: Level 2 (GCSE equivalent); Level 3 (A Levels); Level 4 (Foundation Degree), all the way through to Levels 5 to 7 (equivalent to bachelor's or masters' degree). This again supports employers in using the apprenticeship levy in meeting their full range of skill needs, whilst for individuals, they can complete educational programmes, nationally recognised and developed by industry, without the weight of financial debt carried into their careers.
In England there are 15 occupational maps that exist with one for 'Health & Science'. The maps bring together the occupations recognised by employers to display where technical education can lead. But science apprenticeships don't just sit in this map. They also fit within the maps such as 'Engineering & Manufacturing' and 'Education & Childcare', with examples including Simulation-Based Technician and Science Industry Maintenance Technician.
Increasingly professional bodies are actively engaged within trailblazer groups developing new apprenticeships. This ensures that professional standards and competences are considered and embedded within the apprenticeships knowledge, skills and behaviours, resulting in apprentices who have, full occupational competence, professional standards and experience, with a commitment to high ethical practice and a commitment to continuous professional development.
Apprenticeships can help raise the recognition of the specialist skills, knowledge and behaviours that science technicians and scientists need to meet their occupational duties, benefiting and contributing to an organisations performance. All apprenticeships are a minimum of 1 year in duration but many have a longer duration with 2, 3, 4 or even more years of experience. This delivers significant evidence of professional practice that can support apprentices in securing recognition of their work through professional awards and membership.
Apprenticeships offer the structure and platform that allows industry experts and learning professionals to facilitate individuals in developing specialist knowledge, skills and behaviours, building the apprentices theoretical understanding along with the contextualisation of their skills within working practice. When combined with professional recognition it can ignite and fuel a career, accessing a broader network of learning and opportunity for continuous professional development beyond the confines of the apprenticeship itself.
References https://www.gov.uk/become–apprentice
https://www.instituteforapprenticeships.org/occupational–maps/
Hard of hearing, or prefer to listen? Listen below: