Science Apprentice Conference – September 2023
On the 15th September, the Science Apprenticeship Forum delivered the first national conference dedicated to science apprentices, with the theme of 'From Apprenticeship to impact'.
The event took place at the Jubilee Conference Centre – University of Nottingham, with both in-person and online attendance.  The conference was supported by:
Venue Sponsors:
MI Talent
University of Nottingham
Poster competition sponsor:
Organising partners
Science Apprenticeship Forum
Royal Society of Chemistry
Science Council
Travel bursary sponsors
Association of the British Pharmaceutical Industry
Institute of Physics
Institute of Science and Technology
University of Kent
Manchester Metropolitan University
Marshall Assessment
SIAS
Organising Committee (as pictured):
Alexandra Cummings, Analytical Automation Degree Apprentice, AZ
Erin Maciejewski, Associate Scientist- Process Chemistry, GSK
Katie Dryden-Holt MRSC, Vocational Skills Programme Manager, RSC
Tom Cheek MSET QTLS, Apprenticeship Lead, Science Council
Tom Scott, Laboratory technician, Orbia Polymer Solutions (Alphagary)
Tyler Harvey-Cowlishaw AMRSB MIScT RSci, Laboratory technician, University of Nottingham and
Chair of The Science Apprenticeship Forum
Hilary Jeffreys BSc CSci CChem FRSC, Chair of the Registration Authority, Science Council (Chair for the conference)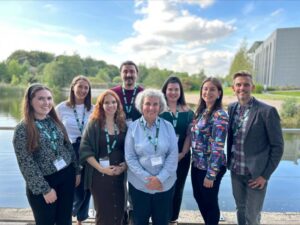 A good number of organisations also attended as exhibitors, including the Science Council members the Royal Society of Biology, Institute of Biomedical Science and Royal Society of Chemistry.
The event programme included:
End point assessment presentations from the Institute for Apprenticeships and Technical Education IfATE
End point assessment preparation workshops from SIAS and Marshall Assessment
Professional registration workshop from the Science Council
Focus groups with the Education and Training Foundation ETF
Keynote speech from Kelly Vere MBE – Director of Technical Strategy, University of Nottingham; Programme Director,
Technician Commitment; Principal Investigator, MI Talent
Apprentice Panel Discussion
Career planning for apprentices from MI Talent
Confidence in presenting from MI Talent
Poster competition
Networking opportunities
It was brilliant to see so many apprentices sharing their experiences and approaches to how they progress in both their apprenticeship and professional careers.  The face-to-face networking offered valuable opportunity to widen the apprenticeship learning experience, listening to other perspectives and approaches.  During the apprenticeship panel session, lots of useful hints and tips were shared on topics such as time management, preparing for success (EPA), progressions to other apprenticeships and harnessing support from workplace mentors.