Celebration of Science – November 2023
On the 15th November, the Science Council delivered a 'Celebration of Science' evening event in Birmingham.
The event took place at the ThinkTank Science Museum and brought together individuals from across the science disciplines, as well as the professional body community, industry, academia and government.
It recognised and celebrated:
Volunteers – recognising their work and contributions
CPD Award Winners – showcasing the importance and benefits of continued professional development
Keynote Speaker – Dr Becky Smethurst – sharing her experiences of being an astrophysicist and science communicator
Apprentices – focusing on the achievements of apprentices, acknowledging the impact that an apprentice and professional registration has on an individuals' career
Apprentice Speakers:
Darrell Cobon RSci
Olivia Waugh RSciTech
Rodzers Zalitis RSciTech
Sophie Galloway RSci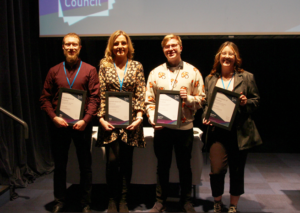 From left to right (Darrell Cobon – Sophie Galloway – Rodzers Zalitis – Liv Waugh)

Darrell, Olivia, Rodzers and Sophie represented brilliantly the influence apprentices can have in promoting apprenticeships as a route into a science career, ensuring that more individuals can access the same opportunities that apprenticeships can provide.
Apprenticeship Ambassador Award – promoting science apprenticeships and raising the apprentice voice
This is the first time we have presented this award and for 2023 we were very pleased to recognise the work of Tyler Harvey-Cowlishaw – Registered Scientist.  As Tyler was unable to attend the event, we pre-recorded a short interview with Tyler (see video below):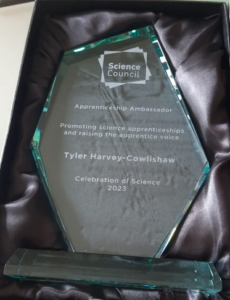 Alongside the celebration, it was brilliant to see so many apprentices and organisations represented at the event.  Thank you to all those who attended.
Read more about the wider aspects of the event by clicking here