Apprenticeships: The Importance of Mentoring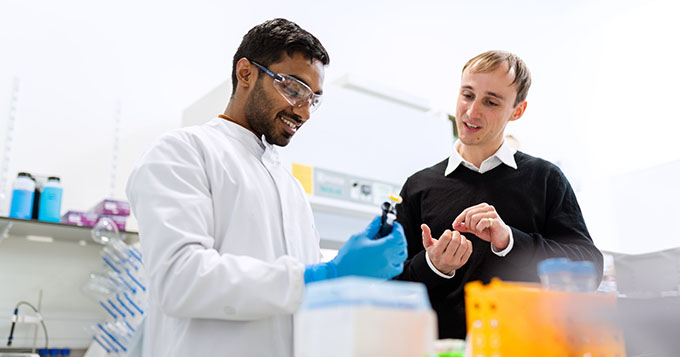 Tom Cheek, Apprenticeship Lead at the Science Council
In this blog we are going to consider the value and importance of intelligent allocation of mentors and the role they play within apprenticeships.
Mentors form an essential component to the planning and delivery of an apprenticeship, that if done well, supports the apprentice to best understand how to contextualise new understandings and theory into their workplace. Mentors are best placed to share experiences, inspire a higher level of work performance, infuse enthusiasm, and ultimately strengthen the learning structure for an apprentice.
When selecting a suitable mentor, they may not automatically be the apprentice's direct line manager. Instead, there may be another member of staff who can share their experiences and encourage the formation of strong, positive behaviours. The mentor may be an individual with vast experience, perhaps entering the later stages of their career, in a position where they can share and pass on the skills and knowledge gained throughout their working life. This is a great example of apprenticeships supporting succession planning. This is especially true is some occupations where the profile of the workforce is heavy on those towards the end of their career and light in new starters. Alternatively, the mentor may be someone who recently completed an apprenticeship and can therefore relate to the challenges of balancing the needs of learning and work.
An apprentice can gain a great deal by accessing the insights from multiple mentors throughout the apprenticeship, providing access to a range of thoughts, ideas, and work values. The key for success is in the early identification of mentors, ensuring continuous mentor engagement, and involving the mentor with planning and implementation of learning/training activity. Mentors need to form part of the collective planning and reviews, in conjunction with the apprentice and their training provider.
For planning, both on and off-the-job training needs to be structured that meets the individual apprentices' learning needs, as identified from initial assessments. These training activities will require close mentor support and facilitation, that when done well, ensures that any theory gained, can be applied within a working practice that improves work performance.
There is often the risk of visualising off-the-job training as disparate from on-the-job learning, and that it only occurs when out of the working environment such as day release to a college or university or studying online. This is missing significant opportunities for off-the-job learning that takes place in the work environment but away from the pressures of day-to-day work. For example, off-the-job learning may be shadowing the work and performance of the workplace mentor or undertaking practical work training within the work setting itself. A scheme of learning can bring the classroom into the workplace and the workplace into the classroom.
When considering the quality of provision and inspections of learning by Ofsted, part of their judgement will consider how well connected the provision of learning of off-the-job content is with the occupational competence and performance within the workplace. They will triangulate experiences of the apprentice and their mentor(s). Do they feel part of the planning? Are they regularly involved in the delivery of developing knowledge, skills and behaviours? Do they know the progress apprentices are making and where they can best impact on improvements? Are they seen as an integral part of the delivery?
Ultimately, it is the employer that needs to confirm that their apprentice is ready for end point assessment at gateway (for standards in England). They therefore need the intelligence from the floor that can guide on this readiness. A mentor can offer this reassurance and confirmation.
Mentors and the business more broadly, can learn from the apprentice too. The apprentice may be part of a larger cohort where they share experiences across their respective organisations. With this exchange, it will demonstrate variation in approaches to work. This brings opportunity to consider and debate new theories or alternative working practices, with mentors reflecting on their own working practices and challenging existing views that may have been established over time, bringing in new or alternative understandings and ways of working.
To break down a method or skill at work, into a way that can be understood by an apprentice, can develop a deeper understanding of working practices, understanding why something is done in the way that it is. Working practices can become automated over time. By analysing practices, it may result in adaptions that bring improvements and efficiencies.
Translating complex skills to train someone else is a skill, as is the ability to provide robust and constructive feedback on an apprentices' work. If feedback is delivered poorly, this can lead to apathy, negativity and even hostility to learning. Inversely, if done well it can inspire, build knowledge, and create a positive experience that encourages continuous professional development for the apprentice.
Mentoring therefore can be a two-way street. From the traditional sense, the apprenticeship mentor can 'pass on' expertise and skills gained over time, to the next generation of Science Technicians and Scientists. Additionally, they can fulfil the ambition of apprenticeships being employed led, both in terms of design and delivery that meets the organisational needs. In return, mentors can gain an insight into their work, reflecting on why they do what they do, expanding their perspective and exploring methods, practices, and theories as part of their own continuous professional development.
Want more information? Read Tom's blogs on apprenticeships here.
Are you visually impaired, or just prefer to listen? Listen to Tom's blog below: