Apprenticeships: AstraZeneca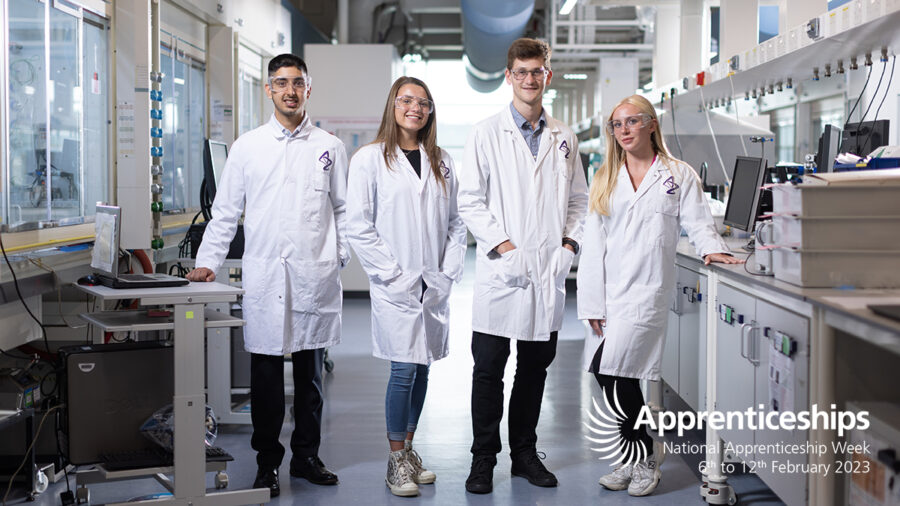 Photo credit AstraZeneca
As part of National Apprenticeship Week, the Science Council interviewed Kim Hardman – Director of UK apprenticeships and Karen Capper – Head of Microbiology of AstraZeneca, to find out more about how apprenticeships form an essential and growing part of their workforce.
Which apprenticeships have you utilised?
Across the business we utilise over 40 different apprenticeships. We have grown from 80 apprentices since 2015 predominantly based in the Northwest, to over 300 apprentices across all our sites in the UK. These are delivered in partnership with 44 different training providers.
The apprenticeships cover a diverse and broad range of roles, reflective of the functions within the organisation and that we operate globally. This includes roles in Microbiology; Data Science & AI, Bioinformatics, IT; Supply Chain and Global Sustainability, to name a few.
Our employment of Laboratory Scientist Level 6 apprentices at the Macclesfield site, represents 20% of the x55 staff base in Microbiology at Macclesfield, either as active or completed apprentices, both of which have contributed to filling the skills gap need in the area of microbiology and aseptic pharmaceutical manufacturing.
What were the drivers that encouraged AstraZeneca to invest and employ apprentices?
Apprentices allow us to apply strategic recruitment, where we have key skills needs in the business enabling us to bring in a wealth of diverse skills and talents into our business. They learn very quickly and often become indispensable within 1-2 years. The retention rates for apprentices at the end of their apprenticeship are often very high, with over 80% of completers having remained with AstraZeneca since 2018. We have a large UK footprint across the UK, with locations in London, Cambridge, Luton and the North West of England. We support our apprentices with relocation packages so that they can go after the apprenticeship they want and not worry about the cost of moving should they be successful.
Across the board at AstraZeneca we have seen the benefits and value of apprenticeships, resulting in a culture that is positive and very open to recruiting apprentices.
Are apprenticeships for new workforce starters, existing staff, or both?
Currently there is an even divide between new starters and upskilling the existing staff base, covering all ages. This ability to upskill brings opportunity to progress or diversify careers, something we are utilising in AstraZeneca to target key skills needs for the UK, in areas such as data science and analytics.
What are your considerations when selecting the training provider partners?
After identifying a specific apprenticeship required to meet a workforce need, we explore online data from the National Apprenticeship Service to identify providers that deliver apprenticeships suitable for that occupation.
Due to the multi-site format of the organisation, we require provision that is flexible and allows for national, and in some cases, global provision. We also review Ofsted reports to monitor the quality of the provision, alongside discussions with other organisations within our network such as SIP (Science Industry Partnership) to share experiences.
From this research we can filter down providers, that then leads to a conversation with each of them to discuss the approach of provision and how this can meet the specifics of the business. Once selected, we hold regular quality reviews with providers, to identify any challenges that require intervention and ensure the best learning experience for our apprentices.
How have you accounted for the mentoring aspects of the apprenticeship?
AstraZeneca has an established mentoring programme for all employees. Each apprentice is allocated a supportive line manager, and some areas also allocate a technical mentor that can ensure learning is embedded within their day to day working practice.
Additionally, they are allocated a mentor with a focus on the apprentices' personal development, and a buddy who is a staff member that is either an apprentice, or has previously completed an apprenticeship. All of these elements of mentoring give a really rounded mentoring support system.
Mentors often speak of the reward and satisfaction they get themselves from supporting the apprentice. Through this activity they have developed and grown themselves too.
Through this approach to mentoring, apprentices get access and guidance from the best people in Industry. It also allows us to best support the on and off-the-job aspects of the apprenticeship, such as forming positive approaches to assignments and growth of knowledge, by allocating specific tutors to address a complex theory need or find a model that helps an apprentice allocate time to complete online learning activities.
How is progression supported and encouraged beyond the apprenticeship?
We retain over 80% of our apprentices, with support from the business to identify progression pathways, be it in advanced educational programmes, or promotions in role. We want to develop a culture where apprentices recognise there is no glass ceiling to their progression. Many of the Heads of Department and other Senior staff at AstraZeneca started as apprentices themselves (including Karen), so act as visible evidence of this opportunity for growth.
In fact, it is recognised that apprentices have the opportunity to progress at pace, due to the strong experience they gain and the behaviours they have developed through the completion of the apprenticeship.
We also want to encourage and support apprentices to gain professional registration, one example being provision of workshops for them to explore the features and benefits of professional registration and access specialist support to become Registered Scientists.
What has been the impact on the business of utilising apprenticeships?
Apprentices allow the business to explore new areas of life science. This gives an amazing opportunity to apprentices, as they can investigate exciting new spaces in science, with strong access to experienced industry leaders to guide them along the way.
Apprenticeships deliver loyal staff inspired to deliver excellence. Apprentices develop the knowledge, skills and behaviours that enable life-long learning and long-term career progression. Many of our apprentices' have seen significant progress in their careers, often acting as role models for other apprentices to aspire higher, grow within the organisation, benefitting the organisation with strong retention of motivated and high-performing employees.
What are the key challenges to address when setting up an apprenticeship?
It can be complex to set up an apprenticeship and there is so much to learn initially. As a large, levy paying employer we have had to work hard to create an enhanced and well-developed apprenticeship programme, but we can appreciate that for small and medium employers, they may find the complexity of apprenticeships a challenge. Finding a way to share this experience and expertise on how to set up an apprenticeship, that could support smaller organisations to engage with apprenticeships, is something we feel would be valuable and impactful, and something we would be happy to contribute to.
Working on building an accurate picture of what an apprenticeship is, and the caliber of apprentices is key. The perception of apprenticeships can still be improved and we need to continue to beat the drum in highlighting the quality they bring to the organisation and how they facilitate strong careers. Apprenticeships offer a strong option for any individual considering how to enter or progress in their career, and an effective workforce solution for employers too.
Finding a strategy that provides the widest and most inclusive recruitment drive is key, as those who may not consider an apprenticeship could be ideal. We work with various marketing partners, such as: notgoingtouni.co.uk; ratemyapprenticeship.co.uk and careerready.org.uk. We find that those who join us frequently note the lack of guidance they received at school advising on how apprenticeships could be a suitable route for them to consider. The challenge is breaking this perception and developing an understanding that apprentices are there for all, with great career potential being one of the rewards.
We believe in offering a package to apprentices that is in line with the Living Wage Foundation, with a strong benefits package including annual bonuses too. This support enables more individuals to consider apprenticeships as a viable option for them, including those seeking a change in their career direction.
Our apprenticeship programmes are accessible and open for all to apply, wider than sixth form and school leaver applications. This results in a diverse range of individuals applying; from those starting off in their career to individuals looking for a career change.
How have you celebrated success and raised the profile of apprenticeships across the organisation?
We actively look for opportunities to remove the blinkers of what people may think apprenticeships mean, and instead see and be inspired by what they are and what they can deliver. We continually work with managers to celebrate and raise the profile of our apprentices as they will drive forward further demand and usage of apprenticeships. This awareness and engagement is key.
Apprentices are pro-active in promoting themselves, by putting themselves forward for awards and subsequently winning them. This is brilliant for their own career and raises the profile of our apprenticeships, promoting apprenticeships as a powerful route into rewarding careers. We also have a number of apprentices who work with our Employee Resource Groups, groups formed by employees to enable like-minded individuals to provide support and work together in our business, often on high profile projects
Apprentices believe in themselves – they ask questions like 'what do I need to do next'? This drive and experience leads to an opportunity for growth within the organisation.
What does the future hold for apprentices at AstraZeneca?
Apprenticeships form a key part of meeting our workforce and skill needs and we fully expect them to continue to grow, as long as they continue to offer globally recognised qualifications. The current offer of apprenticeships and qualifications meets this and as a business that operates internationally, this is essential.
Building on from our current offer, we are committed to continuing quality improvements, increasing support to managers to consider and implement apprentices within their team, and ultimately enhance the experience for the apprentices that delivers strong outcomes and destination on completion of their apprenticeship.
We want to broaden the offer, widen the opportunity, and increase the accessibility of recruitment to encourage all parts of society to apply for an apprenticeship with AstraZeneca. We know that apprenticeships offer us a purposeful and strategic approach to meeting our current and future work skill needs. With apprenticeships we gain experienced and knowledgeable employees, contributing to a strong work performance.
We have created social committees run by apprentices, for apprentices. This is building a platform and calendar of social opportunities, leading to a sense of community and added value of being an apprentice with us.
Apprenticeships bring diversity into our business, enabling us to continue to evolve in line with our passion for what science can do for patients around the world.